Gear
Learn about all the instruments, amps, pedals and gadgets used by the band. Gear doesn't make it or break it, but it deffenitely helps.
Model
Year
Nickname
Main Appearences
ELECTRICS
Fender Stratocaster
1963
Number One
Main SRV guitar throughout the years
Fender Stratocaster
1963
Lenny
Used to record many love songs such as "Riviera Paradise" or "Lenny"
Fender Stratocaster
1959
Yellow
Album versions of "Honey Bee" and "Tell Me", live "Collins Shuffle".
Custom Strat-style
1983
Charley
Song "Life Without You" (Stevie's tribute to Charley after his death in 1985).
ACOUSTICS

1963 "Number One"
This was Stevie's main guitar. He got it from the owner of Ray Henning's Heart of Texas music shop in 1973, and it quickly became his main companion. Number One originally had a white pickguard which was replaced with a black one that now adds the "SRV" logo, and a right-handed tremolo bar – now gold-plated left-handed.
The guitar was built using a 1963 Stratocaster body and a 1962 neck, even though Stevie believed it was a 1959 Stratocaster. It is rumoured, although not proved, that he believed it was a 1959 model because he once took the pickups off and realized that they were made in 1959, so he made a conclusion from that. It was not until 1980 that Rene Martinez took the whole guitar apart and saw the year 1963 stamped in the body and 1962 on the neck.
Stevie's Number One is finished in sunburst and it's original neck has a thick, D-shaped profile with 1-5/8″ (41mm) nut width. The fingerboard radius was originally 7.25″ but eventually came down to 10″. This was a consequence of countless refret jobs done by Rene Martinez, who mostly used Dunlop 6100 fretwire. The headstock was fitted Fender Schaller Elite Gold tuner pegs.
The neck eventually became damaged beyond repair, so Rene figured out he'd put the neck from Stevie's 1962 red Stratocaster on it. Unfortunately that neck was broken into pieces at a show in Holmdell, New Jersey, when a piece of stage equipment fell on several of Stevie's guitars. After that, Number One had a new Fender neck until after Stevie died, when the original Number One neck was re-installed on it.
Number One is currently in the possession of Jimmy Vaughan.
1993 "Lenny"
This guitar first caught Stevie's attention around 1979, when he went with couple of friends to a pawnshop in Austin, Texas.
Unfortunately it cost $350, and he couldn't afford it at that time. That didn't stop his wife, Lenora, who talked to a couple of Stevie's friends to cash in $50 each, so they could give it to him as a birthday present. The plan worked out, and they presented the guitar to Stevie on October 3rd 1980 at Steamboat Springs – nightclub he often played at.
The guitar was originally a 3-tone sunburst maple-neck model with a rosewood fingerboard. It was refinished by the previous owner with a dark natural color, and it had arty inlay behind the bridge.
Stevie decided to replace the neck with the mid-'50s-style maple neck given to him by Billy Gibbons. He kept the tremolo arm, pickups and frets in their original condition, but added his signature and initials on the neck plate and pickguard.
This guitar also has Mickey Mantle's autograph on the back of the body, who signed it on April 10, 1985, when Stevie was invited to play the national anthem at the Houston Astros season opener at the Houston Astrodome.
Stevie recorded with this guitar on many of his heartfelt love songs, including "Riviera Paradise", and of course – "Lenny".
The guitar was put up for auction at the Eric Clapton Crossroads Guitar Festival on June 24, 2004 and it was sold to Guitar Center for $623,500.

1959 "Yellow"
This guitar was previously owned by Vince Martell, Vanilla Fudge's lead guitarist, who sold it to Charley Wirz of Charley's Guitar Shop in Dallas.
The previous owner had hollowed out the body to mount four humbuckers but Wirz removed those and installed a new pickguard in which he placed a Fender single-coil pickup in the neck position. He also painted the whole body yellow, and installed Charvel brass tremolo system.
Charley then gave the guitar to Stevie in early 1981, who added SRV decals where the two pickups would normally be placed, just under the strings.
This was supposedly the guitar Stevie played on the album versions of "Honey Bee" and "Tell Me", and live on DVD "Live at Montreux" for the last song on the set – "Collins Shuffle".
Yellow was stolen in 1985 at the Albany International Airport in New York, but was later recovered and is now on display in the Las Vegas Hard Rock Cafe.

This guitar was made by Charley Wirz – owner of Charley's Guitar Shop in Dallas, in 1984. It has a white strat-style body with a rosewood neck, two controls (volume and tone) and Danelectro lipstick pickups.
On the back of the body is a hula girl sticker and the neckplate has the words "To Stevie Ray Vaughan, more in '84" engraved on it.
Stevie played this guitar on "Life Without You" (which was Stevie's tribute to Charley after his death in 1985), and live on the "Live at Montreaux" video.
In 2003, Charley's and Rene Martinez made 23 limited edition replicas of this guitar, selling for $2500.
Guild JF6512 12-string
Stevie used this guitar on MTV Unplugged. This guitar actually belonged to Stevie's friend and personal assistant Timothy Duckworth.
Timothy recalls that Stevie's hands were so strong that he accidently cracked the neck.
This guitar is now at The Hard Rock Cafe in Dallas.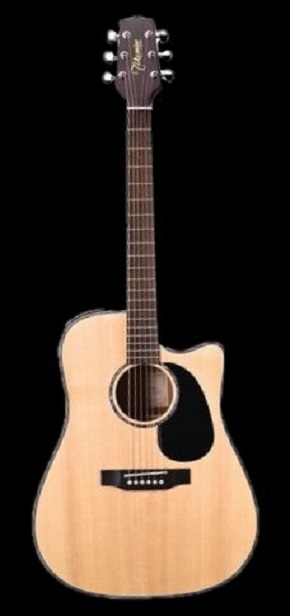 Takamine EG530SC Acoustic
This guitar was used by Stevie on stage at The American Caravan show at The Orpheum Theater on Beale Street, Memphis, Tennessee on 26th August 1986. He used it for the track Oreo Cookie Blues, dueting with Lonnie Mack.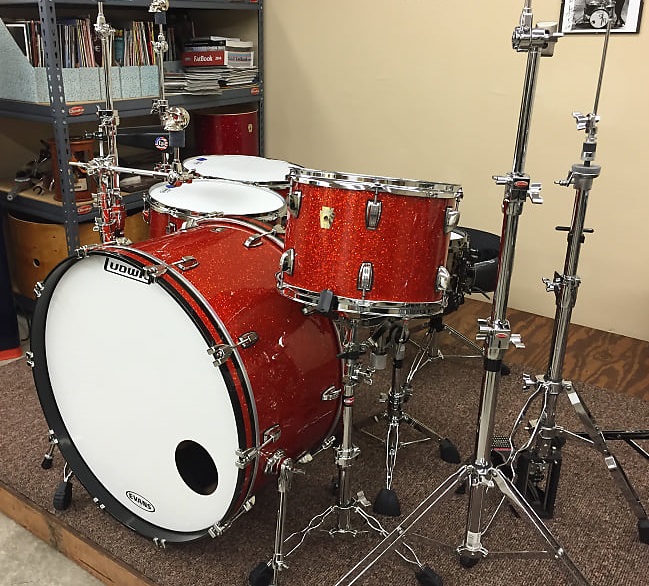 14x22 Bass Drum
16x16 Floor Tom
14x14 Floor Tom
9x13 Tom Tom
Snare Drum(s)
LM400: 5x14 Supraphonic
LC661: 5x14 Copperphonic

Not much info is know about the origins or story of Tommy Shannon's fender bass. Tommy rotated between 3 different precission basses during the time he was playing with Stevie, everything Fender.